Vaccination: Introduction
This is the first video clip (3 mins 38 secs) in the pack Life-saving Maths: How does vaccination work?
Expert: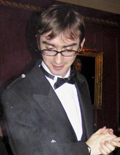 Andrew Conlan is a post-doctoral research associate in the Disease Dynamics research group in the Department of Applied Mathematics and Theoretical Physics and in the Cambridge Infectious Disease Consortium. His research interests are understanding the persistence of infectious disease from the individual to the population; exploring the link between transmission mechanisms and epidemiological data. He studies childhood infectious diseases, Campylobacter jejuni in broilers and bovine Tuberculosis.
He was part of the group which worked with schools on collecting data on contacts between primary school children in order to help develop models for how epidemics occur in the population. More information here.
Email address: akjc2[at]cam.ac.uk