Maths and ... Media Studies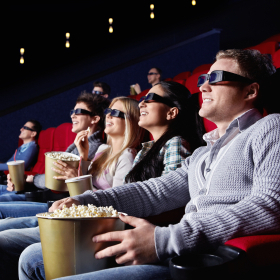 Maths goes to the movies: Joan Lasenby investigates the mathematics and engineering behind computer generated movies and electronic games in this Plus article aimed at older students and general readers.
It's all in the detail:The computer animation used in movies and games is now so lifelike, it is very hard to believe that you are actually watching a surface built from simple shapes of triangles. This article from Plus, aimed at older students and general readers, explores how mathematics helps bring these models to life by visting a company providing 3D scanning services and animation focused software solutions to the film, game and TV industries.
Career interview: Visual effects director: Alexis Wajsbrot is a visual effects specialist who has worked on a number of high-profile films including Harry Potter and the Half-blood Prince, Harry Potter and the Order of Phoenix, Tim Burton's Sweeney Todd, and also on some of those visually stunning commercials you see while waiting for your film to start. His speciality is anything that behaves like a fluid: water, smoke, fire, even fur or cloth. Plus interviewed him to find out more.
Career interview: Film marketing analyst Plus interviewed Francesca Harris, a marketing analyst at Universal Pictures, to find out more about what a job in film marketing involves, and how maths can help.